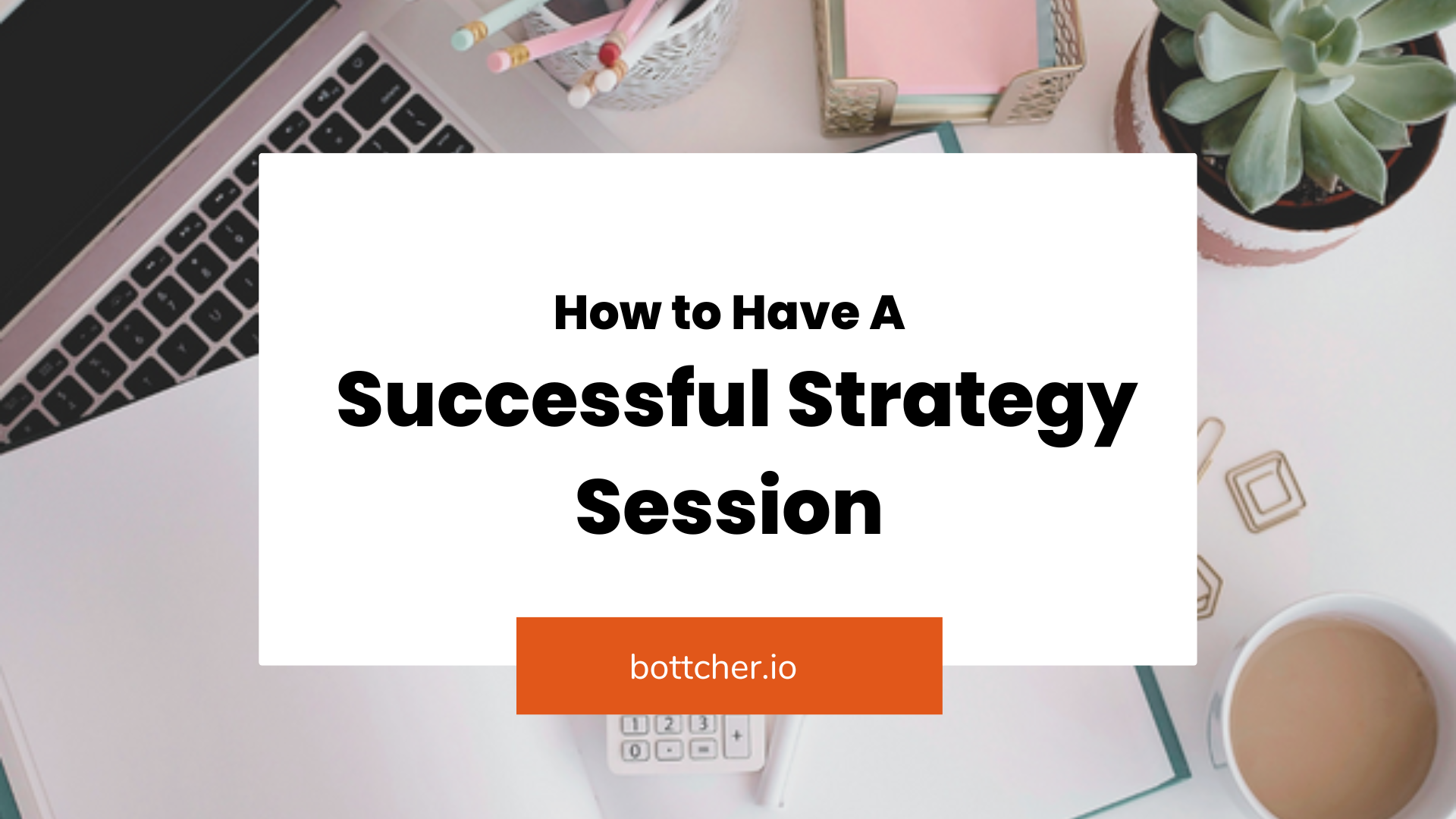 How to Have A Successful Strategy Session
When it comes to business, success is all about planning and execution. And that's where strategy sessions come in - as a way for you and your team to plan and execute your business goals effectively. A strategy session can help you clarify your goals, map out the steps involved in reaching them, and determine the best timeline for achieving success. To make sure that your strategy session is as successful as possible, follow these 5 tips!
What is a strategy session?
A strategy session is an essential meeting where you and your team come together to discuss and develop a marketing plan. It's a great way to get everyone on the same page and to come up with creative and effective solutions to current and future marketing challenges. Make sure to bring your A-game to the session, as it will be the foundation of your success. It's also essential that everyone on the team is engaged in order for the strategy session to be effective. After the meeting, make sure to review what was decided so that it can be implemented as quickly as possible!
A strategy session is a meeting in which business leaders discuss the company's strategic plan and how to execute it. They also discuss current issues, opportunities, and challenges facing the company. Strategic planning is the process of defining a company's overall goals, objectives, and strategies. A strategy session should be an event that happens at least every six months to keep the business plan current and on track.
Why do you need one?
Creating effective marketing plans and achieving business goals is no easy feat. That's where a strategy session comes in. A successful strategy session involves collaboration between you and your team members, as well as input from customers/clients. By using the right tools and techniques, a strategy session can be an extremely productive experience for everyone involved. Make sure to plan ahead and get the team together for a meeting that will help you achieve your goals.
The main purpose of a strategy session is to create clarity and focus. It allows team members to come together and agree on the company's goals, priorities, and available resources. Strategizing also allows you to plan specific steps that will help the business reach its objectives. Effective strategy sessions keep everyone aligned by identifying issues early so they can be addressed head-on in future planning meetings or action items.
The different types of strategy sessions
-Business strategy planning.
-Product strategy planning.
-Marketing strategy planning.
-Operations strategy planning.
-Financial strategy planning.
A strategy session should be held at the beginning and end of each fiscal year in order to ensure that the company's strategic objectives are still relevant and achievable. Additionally, it is important to schedule regular sessions throughout the year in order to keep everyone on track.
How to have a successful strategy session
A successful strategy session is crucial for any business. It should help your business grow and improve its performance, and it should be conducted with the goal of helping everyone involved in the business achieve their goals.
-Define what you want to achieve from the strategy session.
-Establish the timeline for the session and plan the meeting agenda.
-Arrange for team members to be available and discuss their roles and objectives.
-Make sure everyone is on board with the plan and that follow-up is organized and done as needed.
Successful strategy session planning starts with defining what you want to achieve. This can be as simple as stating the business goals or objectives, or it may require more detailed planning.
The next step is to establish a timeline for the session and plan the meeting agenda. Make sure all participants are aware of when and where the meeting will take place, so they can prepare in advance.
Once everyone is confirmed, and arrangements have been made, create a work plan for the session that outlines each step of what will be covered. Be prepared to answer questions about your business strategy so that everyone understands its purpose and goals.
Tips for having a successful strategy session
-Define the business goals and objectives
-Establish a timeline for the meeting and plan the agenda
-Arrange team members' availability ahead of time
-Make sure everyone participants are on board with the strategic plan and implementing follow-up is planned accordingly
-Encourage team members to share their ideas and feedback
-Take the time to reflect on strategy after the meeting is complete
Strategy sessions are an essential part of any business. They help teams plan and execute their strategy in a cohesive way, and help achieve success. To have a successful session, make sure to have a clear agenda, be prepared to discuss each topic in detail, and bring along any visuals or examples of your strategy. Remember that a strategy session is an opportunity for collaboration, not competition. Everyone should feel comfortable contributing their ideas and thoughts.
Conclusion
A strategy session is an important meeting that you should plan and prepare for in advance. By understanding what a strategy session is and why you need one, you can ensure that the meeting is successful. There are a variety of types of strategy sessions available, so find the one that best suits your business. Additionally, make sure to bring along the right tools and resources to make the meeting successful.
In Langley, British Columbia, Canada, we know that good strategy is the key to success. We offer business strategy sessions in Langley, BC which are designed to help you achieve your goals and objectives. Our team of experts will provide guidance and support as you plan for the future of your business.